Note: This article is my original work, and was first published on elearningIndustry.com, where it was titled "A New Wave of Learning Management Systems". Fore more details about online course hosting platforms, Udemy alternatives and white label publishing opportunities, there's a free PDF eBook available. Get your FREE guide
Course Publishing Made Easy
Traditional Learning Management Systems (LMSs) are tool boxes for professionals.
They cater to large, often diversified target groups and, therefore, contain a large collection of tools. You'll find metaphorical hammers, saws, drills, paintbrushes, chef's knives and fountain tip pens, to name just a few. The toolbox is often provided as-is. There's power in that, and the experienced craftsmen or toolbox consultants will just pick the tools they need for a given task and get on with their business. For the apprentice, however, simple tasks can become daunting endeavors.
When you want to set up a learning platform, you spend a lot of time selecting your tools from the provided toolbox, figuring out what they do, how to use them, and how to chain them together. The amount of new tools can be so overwhelming that you may, in fact, set up a toolchain only to discover that you can't paint a watercolor portrait using a power drill, and you needed to select a different tool when setting up your toolchain. (This happens all the time in eLearning projects).
Often, once the toolchain is finally set up and working, the final picture shows that a majority of the tools in the toolbox aren't even used.
This begs the question: Why aren't there any simpler, smaller toolboxes and ready-to-use toolchains (e.g. specifically for watercolor painters) for specific use cases? But there are!
Learning Management For The Masses
In recent years, we've seen cloud-based Learning Management Systems emerge. These offer quicker setup and more modern user interfaces, while still retaining most of the traditional LMS features. User management, course management, enrollment, question pools, SCORM/Tincan compatibility are all long-term acquaintances of anybody who's been working with Learning Management Systems for any amount of time.
Radically reduced to a minimal feature-set, but providing a ready-to-use toolchain, these online course platforms enable thousands of people to share their knowledge in course format without any previous knowledge in course creation.
Taking this one step further, an even newer class of Learning Management Systems has emerged in parallel, which doesn't want to be called Learning Management Systems anymore. Radically reduced to a minimal feature-set, but providing a ready-to-use toolchain, which allows you to get started immediately, these online course platforms are a new breed and suddenly enable thousands of people to share their knowledge in course format without any previous knowledge in course creation.
Critics will say that courses should be designed by instructional designers and giving ordinary people the means to create courses is a recipe for disaster. But this is only partly true. By radically reducing the number of options course creators can choose from, and making them stick to predefined course structure and course design, some aspects of instructional design are ingrained in the platforms and are enforced in all courses.  The painter's toolbox will contain a canvas, a brush, and a few colors, and there will be precise instructions as to the way the brush is supposed to be used in order to yield an acceptable result. This may not have been the best environment for Picasso, but it'll yield much better results than trying to paint a portrait with a power drill and a lawnmower.
Small businesses, where having a team of instructional designers, developers, and Learning Management System administrators is simply not an option, will also appreciate simple setup and quick time-to-market. If the alternative is not getting started with eLearning due to lack of resources and it being an intimidating task, I would much prefer getting results.
The degree of freedom varies with the chosen platform, and a predefined process may not work well for every topic. It may also be somewhat of a step back in terms of cutting-edge eLearning, but the number and success of these online courses prove the value of this approach.
Often, course structure is reduced to a series of videos, interspersed with text elements and quizzes. Pre-defining course structure doesn't guarantee quality and meaningful content, but apparently people who set out to create courses can – in many cases – be trusted to be smart enough to put some thought into creating quality.
Will these course publishing platforms supersede Learning Management Systems? Probably not. Large enterprises and specific applications will continue to pick tools from extensive toolboxes to solve complicated challenges. However, much simpler course publishing platforms enable everybody to build and publish online courses instead of implementing and learning a feature-rich Learning Management System beforehand. That makes these platforms a great choice for first-time course creators, solopreneurs and small enterprises to get started with online learning and grab a share of the huge online learning market.
Discover 5 Online Course Platforms
Let me give you an introduction to 5 of these new lightweight platforms!
If you want a detailed overview of 19 platforms, detailed comparison tables and marketing toolchain advice, download my complete guide to course hosting platforms! Get your FREE guide
1. Teachable
Teachable is a course-hosting platform from NYC which has already made a name for itself. Setting up courses is easy – after creating an account you customize your "school", choose your look and feel, and start building courses. Courses consist of videos (video hosting is included), text, attachments, and quizzes. Teachers and students may interact via integrated discussions or email.  The course interface is clean and tracks the learner's progress. Although this does not (yet) offer the level of interactivity we're used to from eLearning authoring tools, chaining together short videos and adding further information with text and attachments works surprisingly well.
The platform is not limited to courses – the features are sufficient to set up an entire website (including a blog), and e-commerce features allow you to sell courses online. An established choice with a complete feature-set which makes it easy to get started.
2. Zenler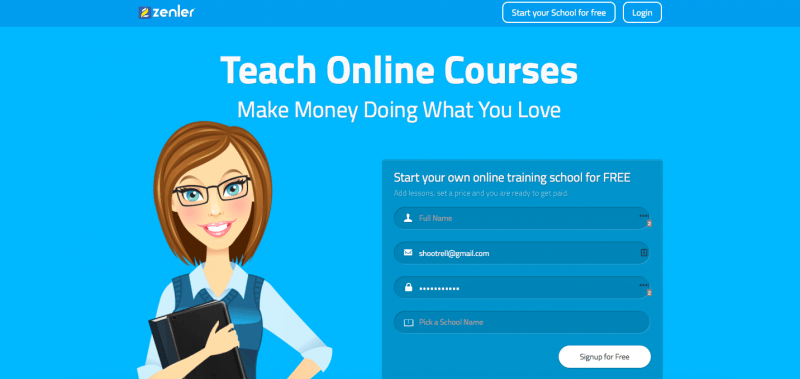 Zenler is an evolving platform from the UK. Zenler is about simplicity and customer service. The feature-set is rather similar to Teachable's. There are extensive website features and an easy to use course interface. You can either build courses from text, pictures and video online, or you may upload SCORM modules. Zenler even provides an optional authoring tool (free of charge for individuals). Native quizzes aren't implemented yet, so you'll need to use authoring tools (or 3rd party quizzes). Selling courses is easy with integrated e-commerce functionality.
3. Thinkific

Thinkific.com is Canada's contribution to this overview. The platform's strong suit is its course interface which is very robust and clean. Courses can be constructed from multimedia files (audio, video, presentations), text, surveys, and graded/non-graded quizzes. At the end of a course, you may even issue completion certificates. This puts the course interface a little bit ahead of the competition. The website-building features are limited, but in exchange Thinkific integrates well with other platforms.
4. Learnworlds

Learnworlds.com is a Greek startup that's challenging its rivals with an interesting set of features. Its focus is on creating social learning spaces. Course building and delivery is only a small (but good) part of the feature-set, which contains an entire social network, discussion, gamification, interactive eBooks and even interactive videos. All of this can be built directly in your web browser without using an external authoring tool. A workpad allows students to solve tasks and take notes while visiting courses.
24/7 monitoring, daily backups, instant upgrades and e-commerce versatility with 5 payment gateways make it appealing to businesses.
If you're looking to transfer the social aspects of learning from the real world to the online space, Learnworlds deserves a visit.
5. Udemy
Udemy differs from the platforms presented so far in that it's not only a course-hosting platform, but a course marketplace.  Instead of setting up your own online school, you're giving Udemy materials to sell to their students.
First-timer course creators are guided through the course development process and have access to instructions, checklists and support. Structuring a course curriculum, uploading videos and creating tests is done via an easy to use web interface, and there is a quality review that all courses need to pass before being published. Courses consist of videos and text, and students interact with teachers via discussions. A big marketplace like Udemy gives instructors potential access to 10 million students, so if the goal is to sell courses, this is significant. This comes at the cost of tightly controlled communication between student and teacher which actively discourages promotion. A gentle way to get started and have an audience, but less suitable for building a school and brand.
Conclusion
Course hosting platforms allow anybody to jump into the world of online learning very quickly at minimal investment. Even if a reduced feature-set compared to traditional Learning Management Systems may take eLearning professionals some getting used to, there is plenty of opportunity for creating online training courses using these platforms and, thus, inviting groups to the world of online learning who previously found the entry barrier too high. Jump onto this new wave of platforms and give them a try!
If you want a detailed overview of 19 platforms, detailed comparison tables and marketing toolchain advice, download my complete guide to course hosting platforms! Get your FREE guide